Garage Door Installation Hacks for Low Headroom!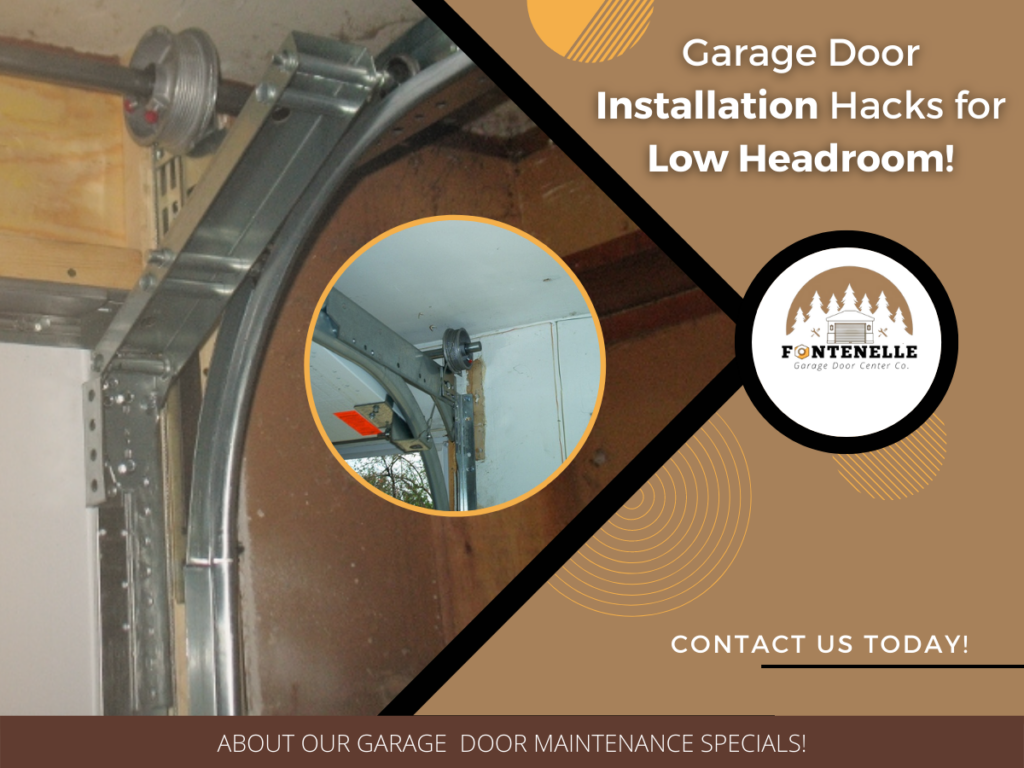 Ready to get a new garage door, but then you notice that your garage has low headroom? If you're in an urban area, space always has to be considered. You don't usually have the luxury of wide, open spaces. And this is true garage areas as well. You typically have to be more intentional about your garage door headroom and how it figures to the type of garage door installation you need.
What Is A Low Headroom Garage?
So what is considered low headroom or low ceiling anyway? You may have come across terms like standard headroom, zero clearance, high clearance, and such. So what do they mean?
Headroom is basically the available space on top of the doorway.
Depending on the style of garage door, a standard installation needs between 12 to 18 inches. So say you have a 7-foot high garage door;  you'll need a headroom that is at least 8 feet to leave a couple of inches of headroom. The tricky part is, the headroom must be clear all the way. No lighting, ductwork chase, or beams that can obstruct a portion of the doorway. And some properties don't have this luxury.
Low headroom garages will have that tighter space. You only have a few inches (e.g., only 6 inches) before interacting with your vehicles and other equipment. A more careful approach can help you find the right overhead garage door for your home.
Garage Door Installation Hacks for Low Headroom
There are many options out there for garage door installation in tighter spaces above the front door (or any other entrance you're putting garage doors). Here are some useful hacks to consider:
Position the torsion springs at the rear end of the room
If you want to stick an overhead garage door system, you have to note that torsion tube is among the bulkiest parts of the entire garage door system. And if you have a low clearance point in your ceiling, chances are the spring will be too bulky to be placed right in front of the doorway.
One practical solution is to put the torsion spring at the rear of the garage room. The track assembly will extend a bit longer, but then you won't have to worry about the torsion tube creating a blocked area as you enter the vehicle onto the driveway.
The only consideration is this may not be the best for doors used many times a day. For example, if the doors cycle 6 or more times a day, the placement of the spring and track will cause faster wear and tear. If you have other family members using the garage doors frequently, the cable would likely spin off the tracks. So expect more garage door service Bellevue NE for this setup. The extended cable system might look unattractive, too, especially for some homeowners who want a clean look.
Opt For Heavy-Duty Rolling Garage Doors
Homeowners and business owners that own low clearance garages can benefit from rollup garage door installation. These high-performance doors can fold up neatly without occupying the space overhead. Aside from the compact door, the motor is quicker, allowing up to 60 inches per second. That's much faster than the typical overhead garage door style.
Rolling or roll-up garage doors are more suited for high-traffic situations because they operate faster and are made of solid but lightweight materials like galvanized steel or aluminum. If you need garage doors for commercial properties, parking spaces, and warehouses with characteristically low clearance, this is the way to go. 
Of course, the downside is that you are limited to the industrial aesthetic – no intricate wooden garage doors in this type of mechanism. But again, this has a lot advantages for low headroom garages.
Utilize The Side Space With Side-Swing Garage Doors
The slide-to-the-side garage door operates just as it's described – by bending and sliding out of the way to open up enough room in your garage space. Instead of an overhead or a roll-up mechanism, the garage door here will slide laterally. Carriage-style garage doors usually adopt this opening mechanism in keeping with the traditional look. With a side-swinging door, you don't have to contend with low headroom issues. However, you will have to think about the available space on the side of your garage room.
This garage door style runs along with lower trolleys that are flexible enough to adjust to adjust according to floor incline. So if you have enough room on the doorway's side to allow for this setup, this will be much more apt garages that have little headroom to spare.
Find Your Garage Door Services and Solutions Here
Having trouble deciding on which garage door suits your low headroom? It's best to consult with garage door service experts before finalizing any decisions. Here at Fontenelle Garage Door Center Co. we are always available to provide garage door installation,  maintenance, and garage door service Bellevue NE for both residential and commercial properties. We give helpful advice and a wide range of garage door products and accessories for your project.

Talk to us today to learn more about how to solve your low headroom garage concerns!